CSS Editing
Inside the code editor you can create custom CSS for your page component
CSS Editor (1)
To open the CSS editor simply click the CSS tab on top of the code editor bar.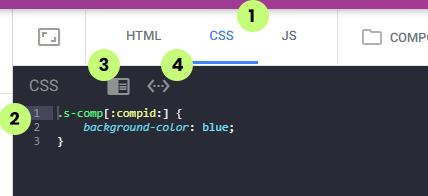 There are two ways to manipulate the CSS of your page component. You can simply add your CSS code in the editor (2) or use the design panels for the design editor (3)(4).
CSS editing (2)
Any CSS you add here will be added to your website. Make sure to use unique classes or use the [:compid:] variable as shown in the image above.
This variable is a unique id given by the platform for your component.
Design Panels (3)
When clicking this button a right panel will open showing the design panels attached to this component.
A Design Panel is a way for non-coding designers to manipulate the CSS and JavaScript of the components.
Start Panel (4)
The properties of the first panel that generates CSS will be opened. If there is no such panel set you will not see this button.