Redirect Module
Migrate content from old websites by connecting potentially non-existing URLs to their active counterpart, change directory, set up custom URLs, 301 pages, a 404 page, etc.
1. Upgrade your project
To set up the redirect module, first, upgrade your SiteManager project.
Go to Project in the upper navigation bar.
Select Upgrade Project.
In the next window, manage SEO and Analytics.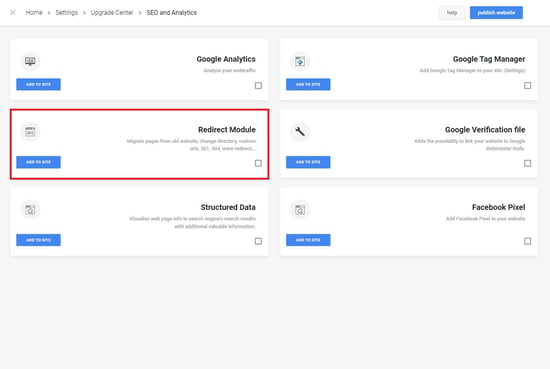 You can always navigate back to this module later by going to Settings in the upper navigation bar under Project.
2. Add redirections
Once you've completed the installation, you will be redirected (pun intended) to the module.
Choose the redirect type (1) you want to add. There are 8 options to choose from.

301 - path to page
301 - path to URL
301 - URL to page
301 - URL to URL
404 - error page
www to non www
non www to www
webforward
tralining slash

Fill out the Redirect from (2) field and the page, URL or path it needs to redirect to (3).
Click the green plus button (4) to add the redirect rule. When you finish adding all redirects, you can publish (5) the .htaccess file to the server.

Caution:
Always look at the field placeholders to ensure you use the correct syntax.