Project Settings
Login to the SiteManager dashboard and go to the settings page of the project you want to publish online.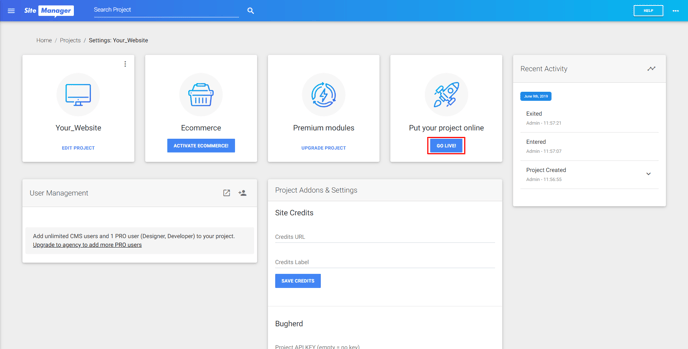 Click the Go Live button to attach a domainname and put your website online
Subscribe to a SiteManager Plan
You need to have a SiteManager Plan to be able to publish websites live. Pick the SiteManager plan that fits your need the best. If you already have a SiteManager Plan activated you won't see this step.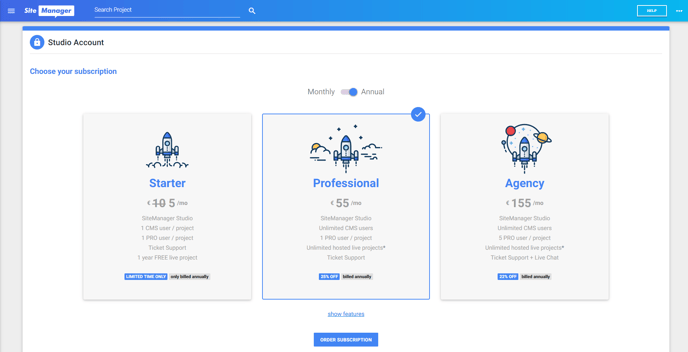 Attach domain
Before you can push a website live you need to attach a domain name to your project.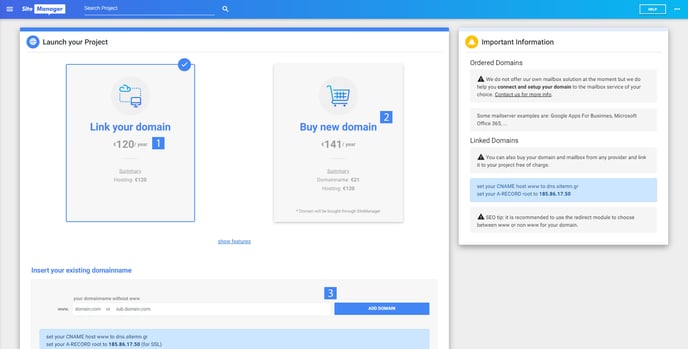 (1) Your annual hosting cost: depends if you installed premium modules (databases, language management,...) or not.
(2) Order a domain name with SiteManager. Pick your extension and add it to your order. Note that we do not offer hosted mailbox solutions for our domains. We recommend using mailbox services like office 365. It can take up to 24 hours before your ordered domain is active.
(3) Link a domain name you already own. You are not obligated to order your domains with us. You can pick any provider and link the domain to your project. Do not forget to set your A-Record and CNAME record: http://knowledge.sitemanager.io/sitemanager-dashboard/settings/setup-your-domain-with-dns-records
Go Live
When you have a domain linked to your project click the Pay button to finish.
The billing information will be added to your account information.

(1) Add another domain to the project
(2) Pay for hosting and put your website online
Remember if you linked a domain from another provider to set up your DNS records: http://knowledge.sitemanager.io/sitemanager-dashboard/settings/setup-your-domain-with-dns-records