There are a billion ways how content may look on a website. To make every project manageable without compromise we created the upgrade store. Here you can install the components, features and integrations your project needs. This removes clutter and creates a unique experience for each project.
Upgrade Store
You can go to the upgrade store by clicking the blue button on the topbar or the link in the left sidebar.
The upgrade Store has 4 sections:
1. System updates: features and functionalities that you may or may not need for your project
2. Page Components: a library of content elements (built with SiteManager developer)
3. Integrations: 3rd party plugins
4. SEO and Analytics: features that you need for SEO purposes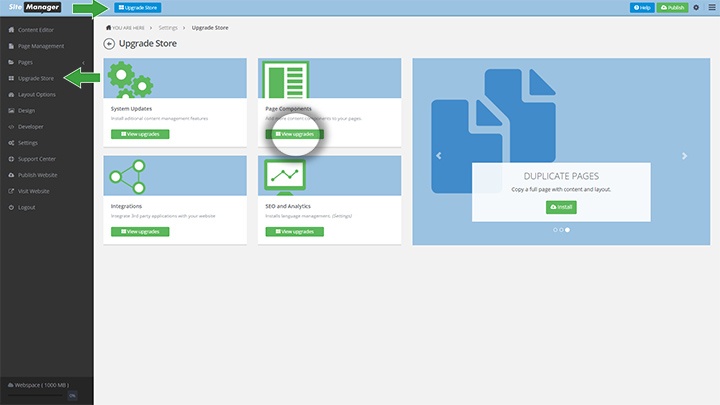 Click the view upgrades button on the Page Components section.
Install Page Components
Browse through the library of components and select the components you wish to add to your CMS.
In this example we have selected picture, picture & text and title component.
Click add to site to add them in one bulk action to the project.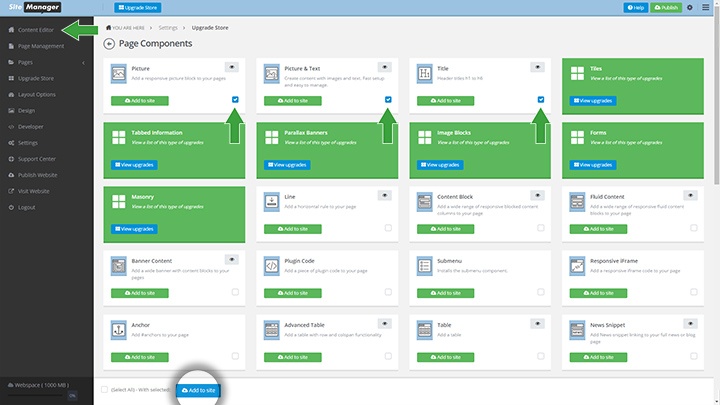 When you are finished installing components return to the CMS Content Editor (if you are not already there)
Add content
In the visual CMS you will see an updated list of the components you added to your project. Simply drag and drop the component to add them to your page.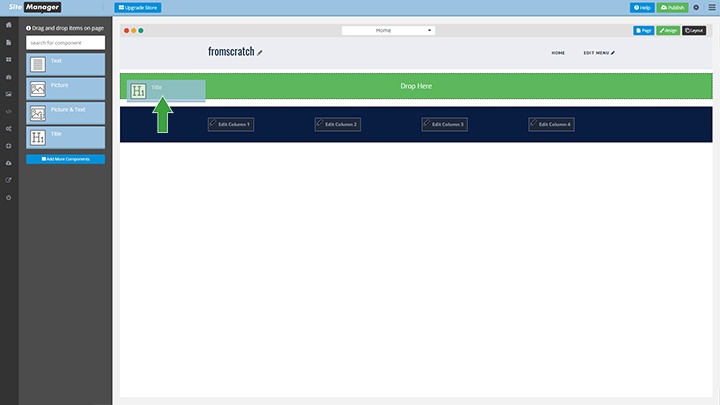 When you dropped the element on the page. The form editor will open up from the right. Here you can input the content for this component.
When you are done click save and the content will be added to your page.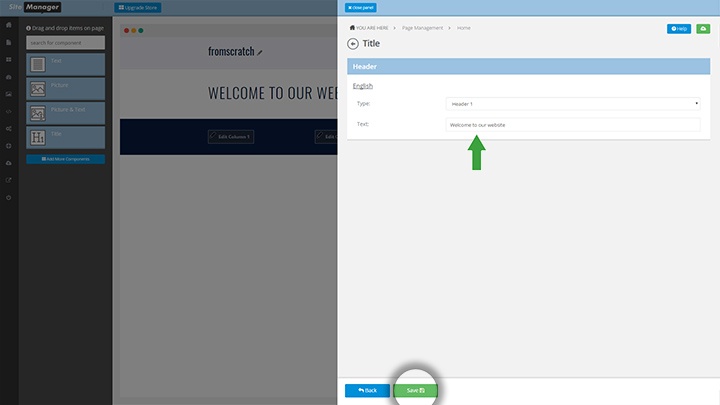 Edit Content
When you hover over the page component you can click the green edit button to open the form editor again.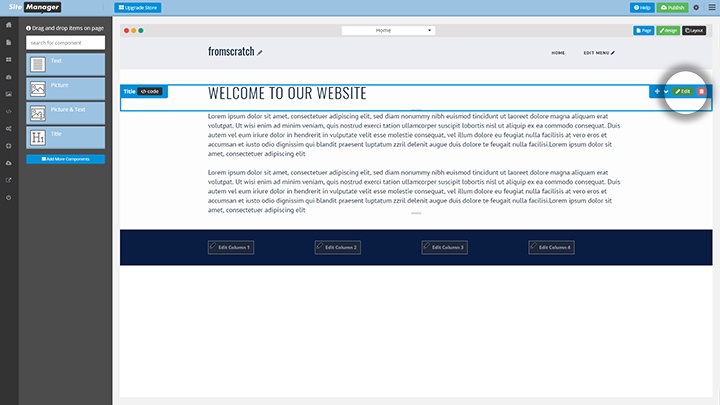 Other content actions
Edit layout content (widgets): click the dark edit buttons on the layout elements to open the form editor for this widget. In the example picture above you would need to click the edit column 1 button to open the related form editor.
http://knowledge.sitemanager.io/sitemanager-cms/content-management/adjusting-the-footer
Add / Edit Pages: you can add more pages and edit the properties.
http://knowledge.sitemanager.io/sitemanager-cms/page-management/how-to-open-page-management
http://knowledge.sitemanager.io/sitemanager-cms/page-management/edit-and-manage-pages