Every page component you have installed from the upgrade store have been built with the SiteManager Developer application.
When you, or someone in your team, knows front-end development they will be able to tweak existing and create their own page components.
When you don't know any developers you can always outsource this work to a SiteManager expert. Just contact support@sitemanager.io and we will gladly help you out. Note: SiteManager expert outsourcing is only available for PRO plans and up.
Visit here for the full Developer documentation: http://knowledge.sitemanager.io/sitemanager-developer/introduction/developer-modules
Developer Page Component overview: http://knowledge.sitemanager.io/sitemanager-developer/introduction/page-components
Below we will give you a general overview of this process:
SiteManager Developer
Click the developer link in the left sidebar (make sure your account has developer rights). If you don't see this link your account does not have developer rights. You can add developer rights to your account in the project dashboard.
On the developer homepage click page components.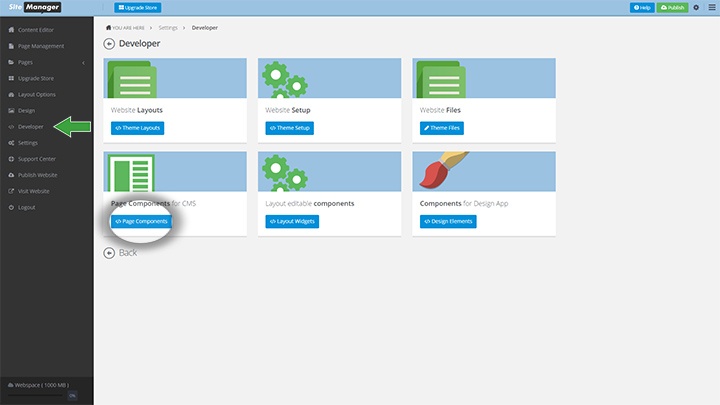 Page Components
You see a list of all the components you installed from the upgrade store. You can create your owncomponents from scratch with add component option on top of the page.
To edit a component click the green code button.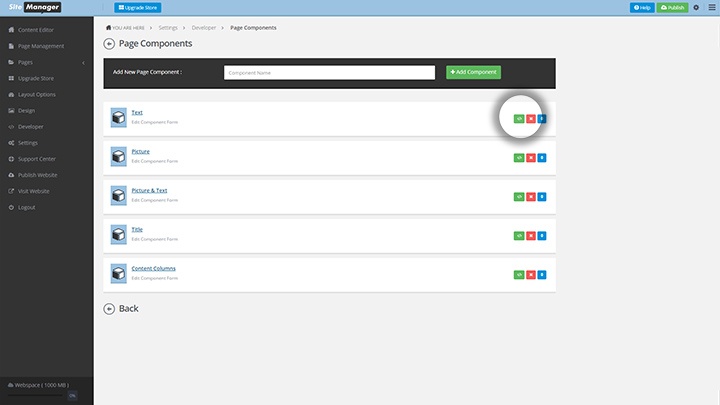 Here you can edit the HTML, CSS and JavaScript code of the component. You can go to the form builder to add input fields. When you have altered your form input fields you can click the auto create vars button. This creates all variables from the form that you can insert in your HTML code.
You can also add / change the design panels associated with this component.
Click save to update your new html code.
Developer Page Component full documentation with videos:http://knowledge.sitemanager.io/sitemanager-developer/introduction/page-components