How to use the project settings page?
This articles gives insights in the functionalities of the project settings page.
Go to Settings page
To go to the settings page login to your SiteManager Dashboard.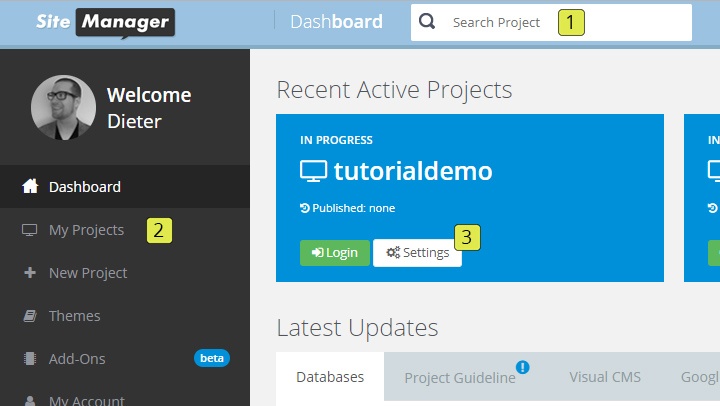 There are 3 ways to go to the settings page of a project:
(1) Search for your project by typing in the project name
(2) Browse all your projects
(3) Click on the settings button of one of the 3 recent active projects
Settings Overview
On the settings page of your project you can do the following: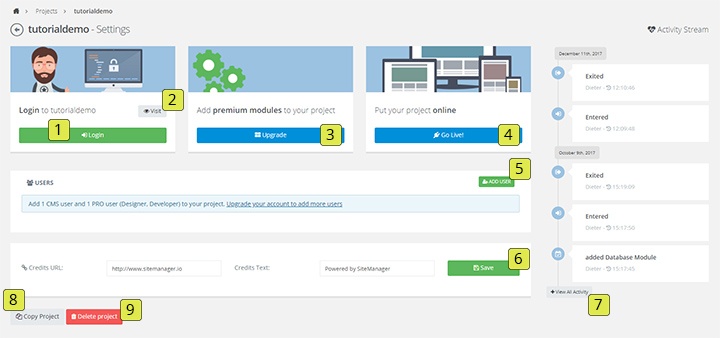 (1) Login to your project back-end (CMS, design, developer)
(2) Visit your project ( staging URL )
(3) Add premium modules to your project (databases, language management, ...)
(4) Attach a domainname to your project to put your website online.
(5) Add users to the project
(6) Change the credits of the project (if used)
(7) Activity Stream: view all activity for this project
(8) Make a copy of your project
(9) Delete your project (you can only delete your project if it is not live)
Add-Ons
When you activate some SiteManager Add-Ons they might add additional settings to this page.
Learn more about Add-Ons here: http://knowledge.sitemanager.io/sitemanager-design/overview/sitemanager-design-introduction

(1) In this example you activate feedback capture platform Bugherd for your project