This article explains how to use the Language Manager for your project. Ideally, all languages should have been set-up before you start adding content to the website. You can add the languages at a later time in the development cycle but all created content for pages and layout will need to be revisit and updated.
Install language manager
Go to the projects settings page - premium modules and install language management.
Visit this article for more information: http://knowledge.sitemanager.io/getting-started-workflow-guideline/2-create-a-new-website-project/multilingual-website
Go to language management
Login to your project go to the settings page and click language management.

You can also immediately open language management via the hidden sidebar at the right: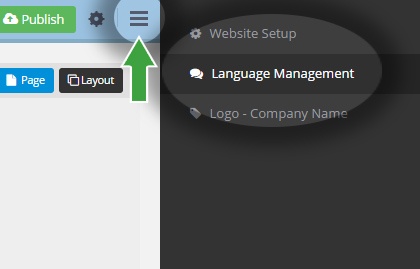 Add / Edit a language
On the language management you can edit or add new languages.

Click on the green add language button to add a new language.
Fill in the name of your language, folder url and language code.
The folder URL will be visible in the URL's of your pages: ex. mywebsite.com/en/
You can find all language codes here: https://www.w3schools.com/tags/ref_language_codes.asp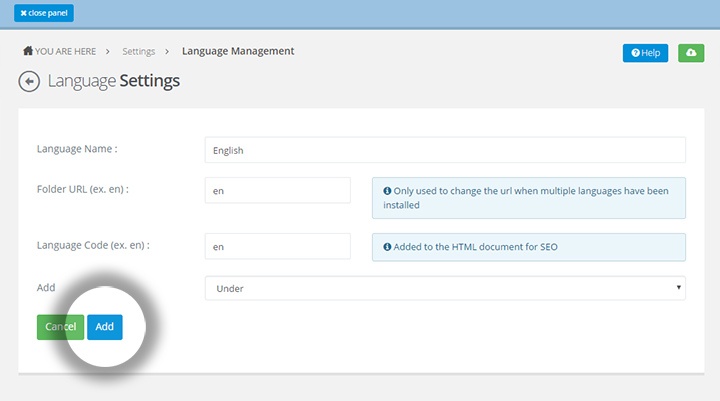 After adding a language a setup page with all the current pages of your website will open. Fill in the name for your new language for every page in the list.
When set-up is done, you will return to the language management start page. Here you will be able to set the start page of the website. You can choose to start with a language selecting page or you can let the website start in a default language of your choice.
Switching between languages in the CMS
When you are in the CMS application you will be able to switch between languages. Simply click the language selector on top of the visual render and select the language you want to edit in.µ

Every CMS form for content will always show all available languages to edit even if you have selected a certain language in the visual render. This creates a faster workflow for content editors who would like to make changes to all languages. Some content like pictures can be copied between languages with the single click of a button.